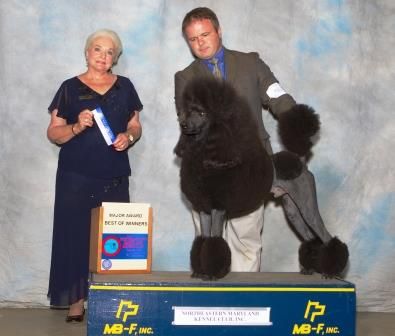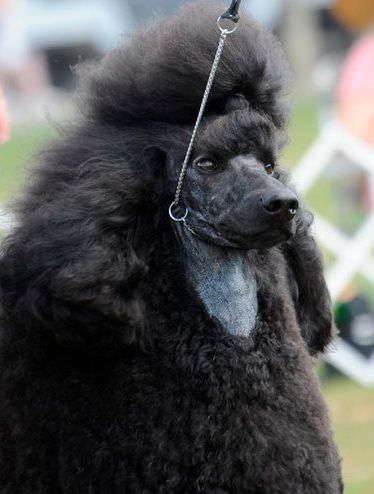 Our sweet Marty, CH Amandi's Marty Michelet, finished his AKC show career with two back-to-back majors.  He has had a very successful stud career producing versatile, AKC CH and GCH'd offspring.   The best trait Marty passes on is his wonderful personality, easy trainability, and love of his humans.  He has been health tested with the following results:  Thyroid, elbows, eyes, cardio - all clear and normal.  OFFA Final Hips - Good.  Clear for NE and vWD.  DNA for sire registered with AKC.  Tested for genetic colors done and is 100% solid genes.  This boy is really handsome and refined.  His movement is amazing and he loved the show ring and worked the ring like all the great champions.  He was awarded UKC Best Poodle in Show and competed in the Group ring as an 8 month old puppy and was awarded 2nd in group.  

He is the fastest, most agile dog I have ever seen and proved it in his Fastcat trials.  He hunts, hikes, and has a very sweet personality.  He is one of those poodles who smiles when he greets you.  Although Marty is retiring from live breeding after Summer, 2021, his frozen semen will be available to a select few health tested ladies that meet our approval, and the resulting COI and DNA Diversity Analysis of the puppies meets our standards.   DNA color tested confirmed he carries black, and the "red-white-cream-apricot" genes (no brown, fawn,  or multi-color "parti" genes).  25" tall and 51 pounds of 'pure amazing'.

Marty has a lot of the structure and refined looks from his ancestor, Mikimoto, AM CH Ale Kai Mikimoto On Fifth TP.  Our first handler said he moves as good, if not better, than Mikimoto and our handler had been active in the poodle show world for decades, including Westminster.

One of Marty's Grandsires, CH Lake Cove That's My Boy, was the #1 dog among all breeds in 1998 and 1999.  He was also the top Best-in-Show-winning Non-Sporting dog of all times.

Marty is also descended from ACK CH JC Pioneer Kaiser.  JC Pioneer Kaiser was named the #1 standard poodle in 2003. He was honored with an invite and competed at the Westminster Dog Show in 2004.  As an excellent example of a poodle that meets the PCA standards for poodles he was honored with a coveted placement on the cover of THREE Poodle Variety magazine issues.  Pro Plan dog food also used his image on their products. This wonderful poodle was the whole package.   

The Ravendune is also a well-known line in his pedigree that is sought after by many breeders because of their conformation and versitility. These long-time breeders were renowned breeders in Canada who produced many Canadian and American Championed poodles.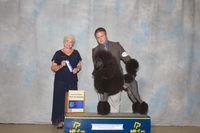 Genetic information for UKC CH Amandi's Marty Michelet
Marty's Genetic Diversity Analysis was done and is available on the latest PCA Standard Poodle Database. We will evaluate any potential breeding using this breeding tool from PCA so any prospective bitches should have the study completed before a breeding can be approved (www.vgl.ucdavis.edu). 


Marty has a low COI as follows:

The COI (Coefficient of Inbreeding) is calculated up to a maximum of 12 generations. However, if a generation is found where fewer than 75% of the dogs in that generation are known, the calculation stops just short of that generation. So if all dogs are known in the 5th generation but only half of them are known in the 6th generation, a 5-generation COI will be calculated. For dogs with more than 10 generations of pedigree information available, a 10-generation COI is also calculated for comparison and statistical purposes.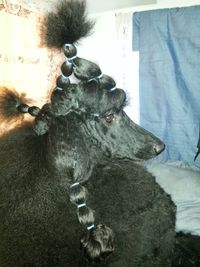 NOTE:  The COI is calculated entirely from the pedigree information present in the PCA database, so if there are inaccuracies in the pedigree, there will also be inaccuracies in the COI.
| | |
| --- | --- |
| 10-generation COI | 3.96% |
| 12-generation COI | 6.00% |


AKC/UKC CH Amandi's Marty Michelet
Link to Marty's OFFA.org Health Testing Results:
http://www.offa.org/display.html?appnum=1575368#animal

12/09/2014 - Final Hips - GOOD