BREAKING NEWS!  The pups have arrived and are beautiful blacks.  Three girls and one boy. Puppies should be available to go to their new homes before the end of April.  This is a dream breeding with "Kip" (GCH Lauris Kipling Gunga Din) Nili Young's stud dog who is drop-dead gorgeous.   Watch this page for updates.
Updates:
4/5/22 - The puppies are over 5 weeks now and have reached many milestones and are keeping us very busy. They started actively playing over a week ago and the battle of the best is on now. Marigold, the smallest, is pretty much the toughest with a big heart. She keeps them all in line. Mamma is beginning to wean the puppies and they are enjoying their new puppy meals with a passion and a bit of a mess. Anything new has to be explored to the fullest.  They love the tunnel, balls, boxes, and their crate where they can go in and out. The outside play yard was a big success as was their first grooming and clipping of face and sani area.  None of them had a problem with it and cooperated beautifully. Millie, Siba's daughter, came home from the handlers and the puppies love their Aunt Millie. Millie just loves them back with a passion. It's less than 3 weeks before they go to their new homes, so we are keeping them moving along a steep learning curve so they will be ready for the world of new experiences.  Tomorrow, they start going on regular car rides just to get used to them.  Mamma will go along for moral support.
3/16/22 - The puppies are progressing nicely. We started temperament testing, and all are loving it. Their eyes opened this week. This means their hearing is getting better. We are getting them used to different sights and sounds like vacuum cleaners, storms (Florida has a few big ones right now), percussion sounds, and videos on internet with various sounds. The best part is they are starting to interact and recognize their humans.
3/06/22 - began scent work with the puppies.  Misty loved Rosmary and Manny loves lemon.  Marigold gravitated to the peppermint and Marian loved both the Rosemary and the mint. 
3/11/22 - Misty is first puppy to open her eyes and she started walking today.  Manny is walking and the others are so close. They all are gaining weight and Marlee is doing a great job of keeping them clean.  
GCh 'KIP - an absolutely stunning dog that complements Marlee's Pedigree so well. Both dogs are fully health tested with clear results and Marlee has been DNA tested through BetterBred and her health testing results are on Offa.org  Kip's Pedigree: 
http://poodledata.org/pedigree.asp?ID=516864 
Pedigree: AM GCH Lauris Kipling Gunga Din CGC 
poodledata.org
OUR BEAUTIFUL AND VERY SUCCESSFUL STUD DOG - MARTY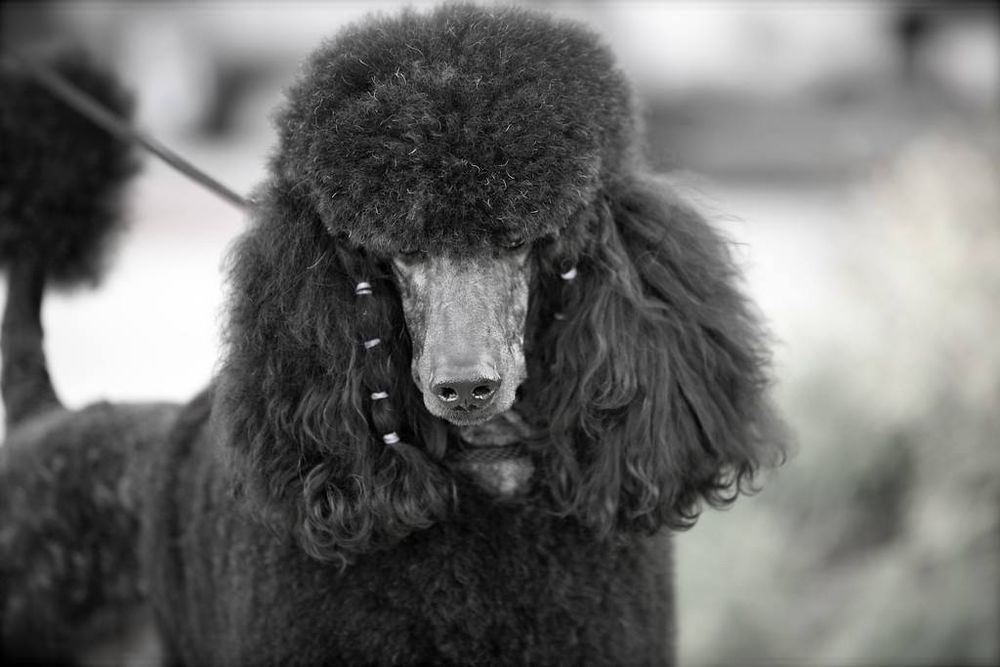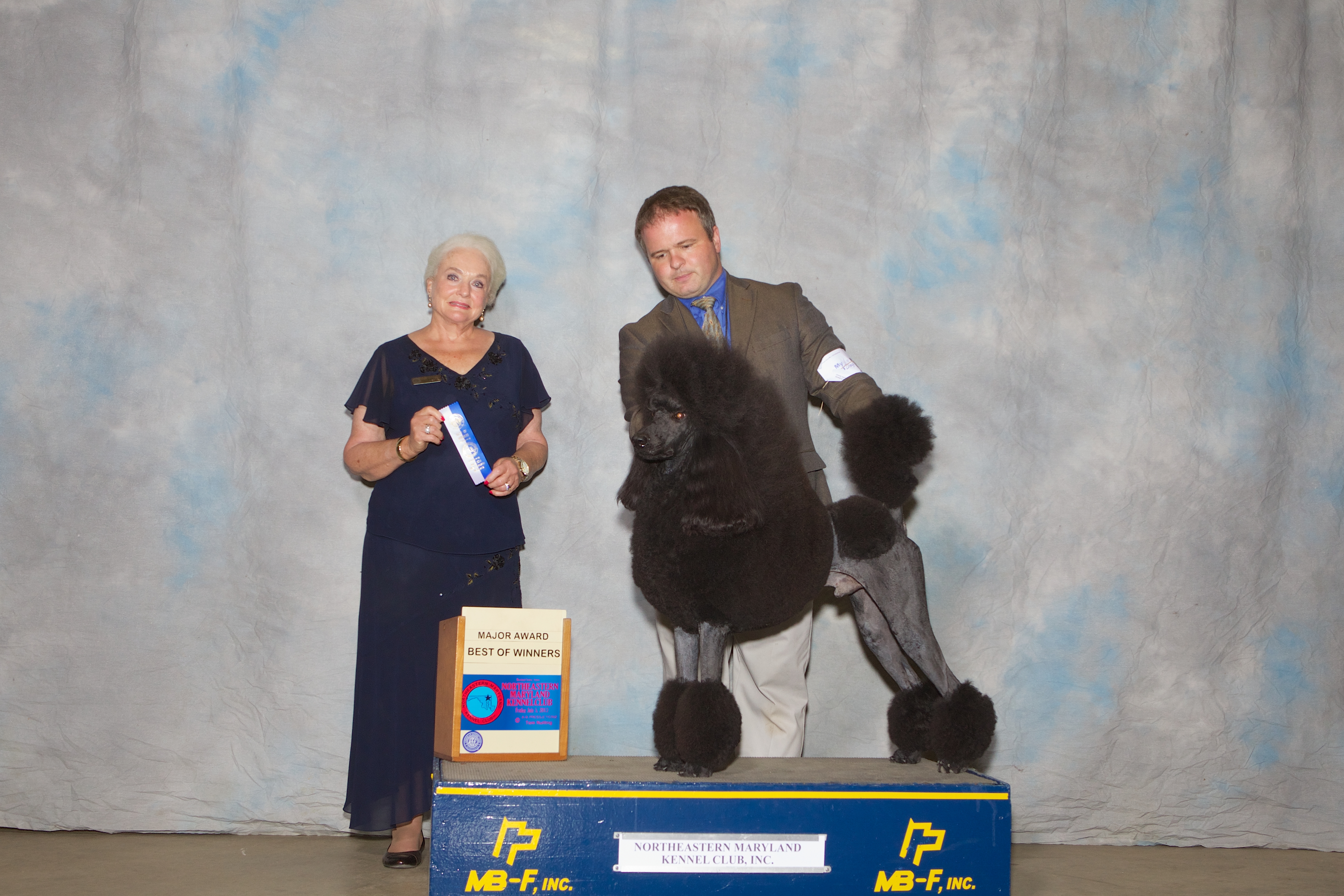 All photographs are copyrighted - reproduction or use without written authorization is prohibited.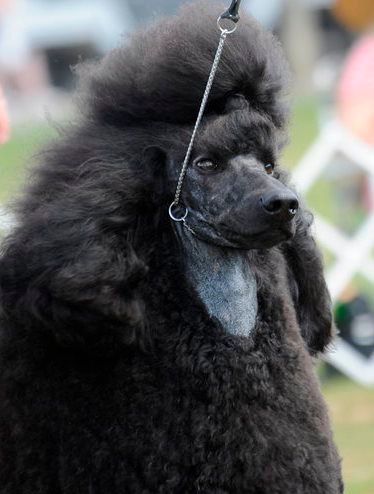 All Photographs are copyrighted - reproduction or use without written authorization is prohibited.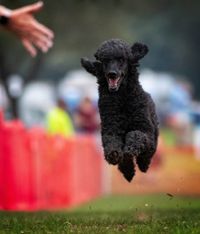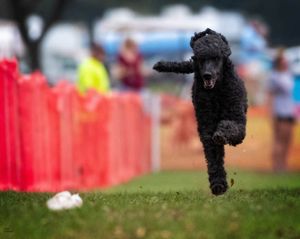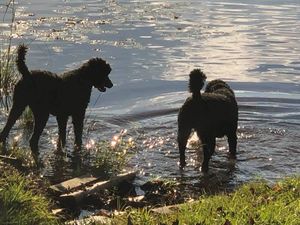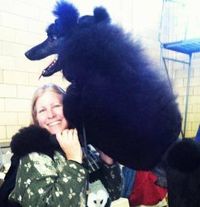 AKC UKC CH Amandi's Marty Michelet - "Marty"
2022 February 25th, Marty's daughter,  Marlee, whelped 3 girls and one boy, all black. The puppies are thriving. Located in Ocala and ready to go to their home on April 21st. Please contact me if you would like to be considered as the loving family for one of these puppies. We hope to breed Marlee again this summer with puppies available about November in Pennsylvania so keep an eye on this website for updates for that litter.
2021 Available May/June PUPPIES! Marty  bred on January 17th and 19th, 2021 to a beautiful, fully health tested girl and this will be one of his last live breedings.  We do have frozen semen for a few AI breedings to approved bitches.  
Fall 2021 PUPPIES! We kept a beautiful female from the repeat breeding done by Gladystar using our Marty.  This sire and dame produced a male that earned his AKC GrCH at 10 months old and has multiple versatility titles including Trickdog titles. For this girl, Marlee, (please see her page for detailed information), we have plans to breed her to a beautiful boy out of Stone Run this year if all her health testing clears her for breeding.  Testing will be completed this Spring and posted on Ofa.org under "Gladystar's Marlee of Michelet's Marty".  Stone Run was founded by Connie Unger and Gloria Boyle who own the #1 poodle in the country, Siba.  Siba won multiple Best In Shows and won Westminster Dog Show 2020 in February.  
January, 17, 2019 Latest news:  Marty is going to be a proud "puppy litter" father again in a repeat breeding.  The first breeding with Berta, of Gladystar Poodles (through chilled ship) produced 5 puppies but most importantly the one kept by the breeder, Gerard, became an AKC GrCH before 10 months old.  He also received his first level trick dog title and started on the birds/hunting training and agility training, picking them both up quickly and naturally.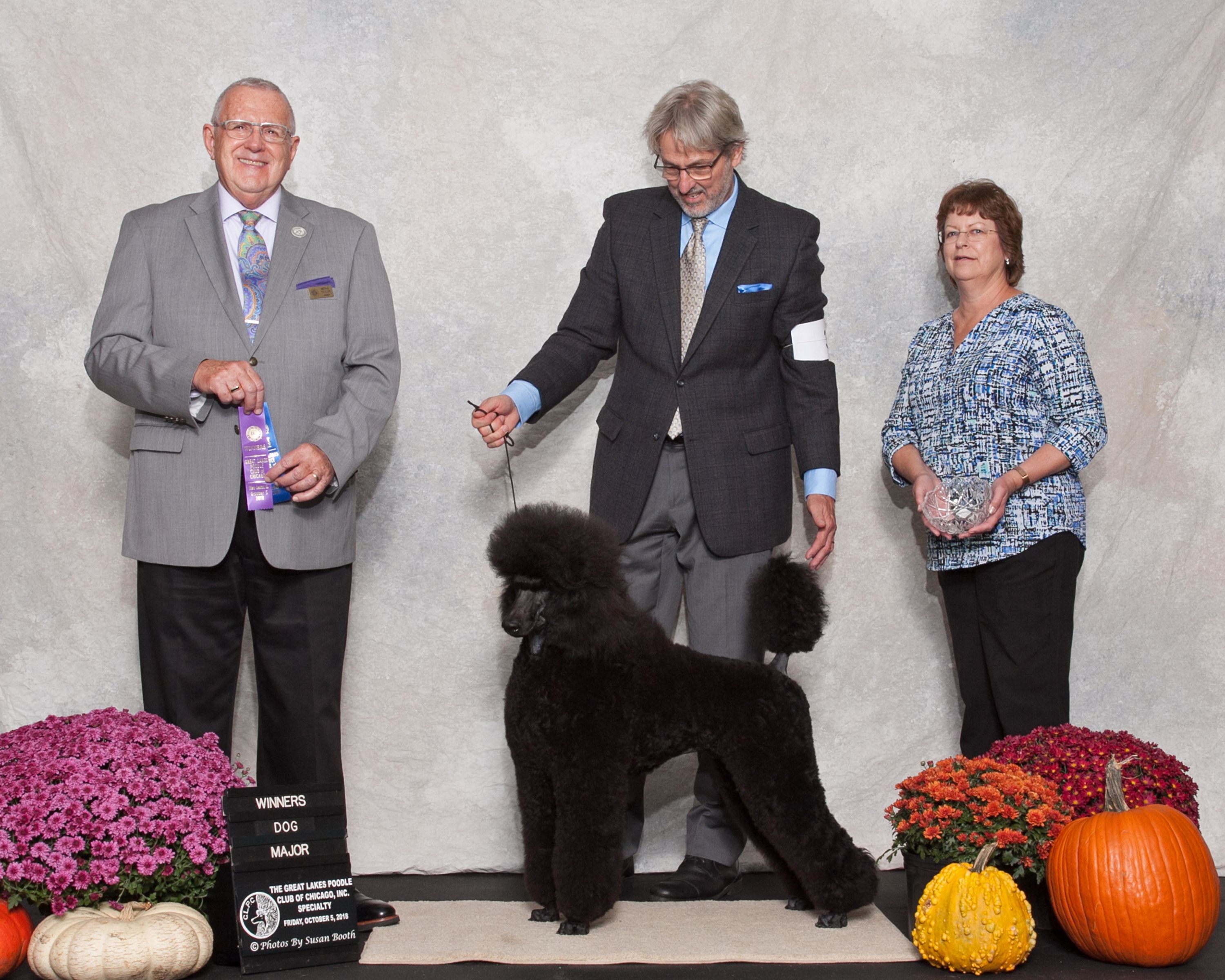 AKC Grand Champion 
GCH CH Gladystar Slopestyle Trickster TKI  - "Gerard"
           All photograph are copyrighted - reproduction or use without written authorization is prohibited.
2017   ANNOUNCEMENT, Marty is a proud daddy of two beautiful litters, one at Gladystar Poodles in Wisconsin and one at Murrmaid Poodles in Conestoga, PA.  Our thanks to these two long-time breeders for choosing Marty as the sire.  Joy, of Murmaid, is a long-time renowned breeder of standards and minis and does health testing and showing.  She has shown her poodles at Westminster and done very well. John, of Gladystar, breeds for all-around performance dogs that compete in conformation, agility, hunting/field trials, and trick dog.   
 2013 Woo-Hoo.... Marty, Amandi's Marty Michelet, is an AKC Champion under the wonderful grooming and handling of Crystal and Paul Clas.  He was awarded back-to-back majors in one weekend by very renowned judges to complete his requirements for champion.  Now he is living the life in a shorter haircut at our home and loving all the attention from his family.  We will be compiling a video of his show career and you can see his photos from his Champion weekend on his page.  He is available for stud to approved dames.

Marty is descended from ACK CH JC Pioneer Kaiser and Lake Cove That's My Boy.  JC Pioneer Kaiser was named the #1 standard poodle in 2003.  He was honored with an invite and competed at the Westminster Dog Show in 2004.  As an excellent example of a poodle that meets the PCA standards for poodles he was honored with a coveted placement on the cover of THREE Poodle Variety magazine issues.  Pro Plan dog food also used his image on their products.  This wonderful poodle was the whole package.    We are especially excited about Marty's prospects because he shares some common pedigree with London, the current "AKC Century BIS Champion - 100 BIS wins".  Lake Cove That's My Boy is the ancestor of London.  London is the Grandfather of Siba, the Best in Show winner of Westminster in 2020.

 Michelet Poodles is based in Eastern Pennsylvania near NY, NJ, MD, and Philadelphia.  We are a responsible breeder of just one or two litters of Standard Poodles per year. ( Please note:  We do not support the doodle fad and will not sell a puppy to anyone who supports the breeding of poodles to other breeds or breeds Merle color as it is not a natural color in poodles. Established in 2008 we produce and show quality Standard Poodles for the AKC show ring, and pet homes.  We focus on temperament, conformation, agility, versatility, and structural soundness. We practice a strict protocol of health testing, exercise for our poodles, and breeding for the best attributes for the poodle breed.  We are members of Lehigh Valley Poodle Club, UKC, and AKC Canine Good Citizen Program.  We also compete in other AKC events like Fast Cat and Barn Hunting and several of Marty's puppies are hunting poodles and trick dogs. Our poodles are members of our family and live with us in our home.  Our poodles' lifestyle includes lots of swimming, hiking, hunting, socialization, cuddling, and playing. 

We currently have one stud, Marty,  (b. 11/2011), AKC CH Amandi's Marty Michelet, is an AKC Champion.   He has completed his health testing and has been awarded his CHIC #.  His final hip rating by OFFA was "Good", one of the highest ratings you can get.  He is a stunning, refined black poodle.  He is available for stud service to approved breeders interested in quality, solid poodles.  He has clear eyes, clear NE and VwD, has rated "good" for hips and elbow (un-sedated), clear cardio, and clear thyroid.  A terrific testament to the dedication to health testing is that 100% of Marty's littermates have been health tested (all of them had good or excellent hip ratings) and most of Mickie's half-siblings have been health tested.  Several of Marty's littermates have also been awarded their CHIC #.  Marty has participate in poodle genetic research projects through PCA and has donated blood to our local emergency animal hospital.  
 
We're happy to answer any questions you may have about Standard Poodles and mentor our buyers of our puppies through the process of raising a great addition to your family. Thank You for visiting! 
Proud to support the dog world: - Poodle Club of the Lehigh Valley and Poodle Club of America (PCA) - PCA Poodle Rescue and Lehigh Valley Poodle Rescue - Betterbred - and their VGL testing to help guide breeders in the goal of maintaining and improving genetic diversity. - Leon County Humane Society, Tallahassee, FL - where my daughter is on the Board - Canine clinical trials and canine blood donations
You are visitor number: 12494